IPA Freshman's Science Fair Project 1 of 300 Best in the Nation
Island Pacific Academy freshman, Natalie Welch ('19), spent this past summer doing something most kids who just finished middle school would not find a likeable task.  She worked to complete the challenging Broadcom MASTERS application as one of 6,000 nationwide nominees; only a third, just 2,230, would have the persistence to join her in this effort.  Her dedication paid off when she learned that her eighth grade Science Fair project was selected from that group as one of the 300 semifinalists in the prestigious competition.
The word "masters" in Broadcom MASTERS is an acronym for Math, Applied Science, Technology and Engineering Rising Stars.  Only the top 10% of grade 6-8 Science Fair projects are nominated for this premiere middle school science and engineering fair competition.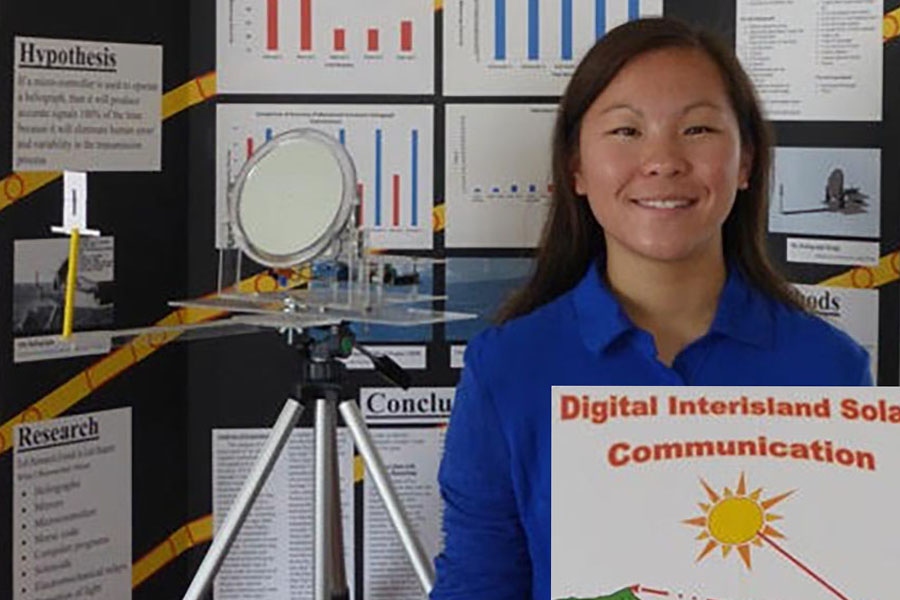 Welch's Science Fair project updated old technology, the heliograph, bringing it into the present and perhaps the future.  
Last year, as an eighth grade student, Welch entered her innovative science project "Digital Interisland Solar Communication" and won best overall for middle school students at the District and 2015 Hawaii State Science and Engineering Fair held at the Hawaii Convention Center.  Her awards included a $350 prize as well as a Broadcom MASTERS nomination.
For her Science Fair project, Welch designed and built the world's first digitally-controlled heliograph (sun telegraph) that can be used for extremely energy-efficient data transmission, perhaps eventually between Mars and Earth orbit.  When asked where she got the idea, Welch replied, "I used to watch 'survivor shows' on TV, and when the star of one show was stranded on a deserted island he used a hand-held mirror that reflected sunlight and sent an SOS to a ship on the horizon.  I thought that was 'cool.'"  
A few years later, as she looked at Diamond Head in the distance from her own backyard, she wondered if she could communicate that far with sunlight.  Through her research on the subject, she learned about the heliograph, which was used for communication over 100-years ago.  In eighth grade, when it was time to select a science fair project, she decided to try to modernize that technology.  "As I was working on the project, I realized there was a chance that I would not be able to make it work at all.  I had to revise my design more than once.  But, it eventually worked, and I learned a lot in the process," says Welch.  
In her Broadcom MASTERS application, Welch acknowledged the help from Michelle Bradley, IPA's Science Department Chair, who encouraged her to record and graph all her data; her father, who drove to Diamond Head and hiked to the summit one morning to record the encoded flashes of sunlight she sent with her digitally-controlled heliograph from 19 miles away; and her mother, who repeatedly encouraged to keep improving every aspect of her project even when it was already "good".
In addition to preparing and submitting her Broadcom MASTERS application this summer, Welch still found time to go boating, swimming, biking, fishing, and working in the woods of Fish Creek, Wisconsin while visiting and helping her 93-year-old grandparents.  On the way home to Hawaii, the Welch family spent three full days biking around San Diego, including an arduous 30-mile ride that went along the harbor, Coronado, and the Silver Strand.
Q&A with Natalie Welch ('19)
Q: What was the title of your project?  What category is it in?
A: The title of my project is "Digital Interisland Solar Communication."  It is in the category of Engineering: Electrical and Mechanical.
Q: How and why did you pick your topic for your award-winning project?
A: I watched a survival show where the main character was stranded on a remote island. He used a mirror to reflect sunlight using Morse code to signal a ship. From my house, I am able to see a prominent landmark (Diamond Head) that is approximately 19 miles away. I wondered if I could communicate over that distance by using sunlight and a mirror. After researching, I learned about heliographs. I was inspired to improve the manually controlled heliograph using digital technology such as microcontrollers, relays, solenoids, and coding to automatically tilt the mirror.
Q: How much time did you spend on your project?  How long did it take you to make the display?
A: I began this project in August and finished at the end of December, approximately 4-1/2 months.   At the beginning of the school year, my science teacher, Mrs. Bradley told us to start thinking about what we wanted to do for our science project that year. My lab report was due the day before Christmas break.. The lab report wasn't the only part of the project that I needed to finish by then.  I also had to finish my project display board. Before I could start my board, I had to design how I wanted it to look such as the information I would put on it, and where on the board it would go. Then I wrote, created and formatted information, pictures, graphs, titles on my computer printed it, measured the borders, cut the pieces of paper, aligned each piece carefully on the board, and then glued each piece onto the board. After all the content was ready, I created a pop-up title for my display board. It took me three days to complete my display board.
Q: Who are the people who have mentored you during Science Fair?
A: My science teacher, Mrs. Bradley, and my dad were my Science Fair mentors. Mrs. Bradley advised me to analyze my data more completely so that I could explain my results more effectively. She would always give me suggestions on how to make my project better. Her suggestions were clear, concise, and detailed so that I could follow them completely. My dad also gave me suggestions on how to improve my project. He would tell me what he thought was written well, and what could be improved. He also supervised me when I used the power tools to cut and drill sheet acrylic. Additionally, my mom helped me to create an orderly and logical display board. She helped me to arrange my information in a way that would be pleasing to look at, yet informative.
Q: Anyone you would like to thank?
A: I would like to thank my Mrs. Bradley, my dad, mom, Mr. Stan, Ms. Gatti, and my classmates (especially Rylyne Bravo for continuous moral support). Thank you, Mrs. Bradley, for always  helping and supporting me even if you were busy. Thank you, mom and dad, for encouraging me  to do my best. Thank you, Mr. Stan and Ms. Gatti, for helping and supporting me on my science fair projects during the previous years. Your support and comments on my previous projects helped me to improve my science project each year.  
Q: Are you already looking at colleges? and majors?
A: I have looked at a few colleges but have not decided which one I want to attend. Currently, Mechanical or Electrical Engineering and law are interesting.
Q: What do you like to do outside of school?
A: My favorite hobby is modeling three dimensional objects in a CAD software program because I find it fun. I have modeled an airplane, designer toys, and USB flash drive cases. I enjoy this because the journey of creating the objects takes time to determine the best way to model them and it allows me to learn more about the software. My favorite extra-curricular activity is learning how to speak Mandarin Chinese. I enjoy this because to learn a language, you have to remember sentence patterns and words. I enjoy activities where I have to use my knowledge to figure things out.
Q: What advice do you have for younger students as they prepare for Science Fair?
A: I would suggest that they look at the list of projects from previous years that became semifinalists and finalists for the Broadcom National Competition, as this may give them an idea of what they will need to do in order to have a very good project. Find a subject that is interesting to them and have fun learning as they complete the project.  They should not procrastinate. They should try to finish writing their lab report as soon as possible, and then spend the next few weeks editing it.