Because of you, students at ISLAND PACIFIC ACADEMY are able to continue their learning experience utilizing technology, while developing necessary skills in real world situations and challenges as the world is facing during these unprecedented times in the light of the COVID-19 pandemic.
These times are vulnerable for us, and we continue to be grateful for friends like you because it's through your support that our students can be changemakers.
A gift of any amount helps our students navigate forward with confidence – I Mua Me Ka Ha'aheo, in a culture where values matter.
Mahalo, for the difference you make each and every day for our students!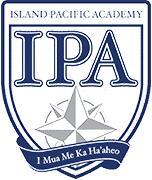 IPA ANNUAL FUND
Annual Fund supports immediate needs of ISLAND PACIFIC ACADEMY's students
100%
Every student benefits from a successful Annual Fund campaign, as the proceeds directly enrich the student experience at IPA
ANNUAL GIVING
Every gift to the Annual Fund supports every student.
510
Out of 510 students, 90 receive Tuition Assistance, and the need is even greater!
ATHLETICS
You can make a difference for our student athletes by making a gift to our Athletics program
100%
Class of 2019 Every graduate attending 4-year college