ISLAND PACIFIC ACADEMY is committed to creating and maintaining a culture in which the core values upon which the school was founded are lived each day by our students, faculty, staff, and the larger IPA community. These values include an appreciation for the power of human kindness, a generosity of spirit, and recognition of the values of each individual. In order to fulfill this commitment, IPA has adopted the practices outlined in the Tribes Learning Communities and those in our own "5 Agreements".
Dr. Daniel White founded ISLAND PACIFIC ACADEMY upon a set of principles that continue to imbue the culture of IPA today. He envisioned that students and faculty would understand and practice the power of human kindness and exhibit a generosity of spirit, which, taken together, result in respect for others. These values are the foundation by which IPA students live and learn about the world around them.
When IPA opened, Dr. White commissioned Pumehana Silva and Melelani Spencer to create an oli, or Hawaiian chant, for the school that reflected our philosophy and recognized and respected a sense of place and culture. The ISLAND PACIFIC ACADEMY oli, Nā Kau a Kau, tells a story of the journey of IPA students in this ahupuaʻa of Honouliuli as they navigate through their academic careers, always mindful of the values that guide us: humble pride, love, respect, generosity, and gratitude.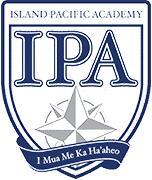 Go Forward with Confidence
Kilo ka maka i uka i kai
I Honouliuli a puni ē
He nilu ka 'ikena, Ka mā 'ama 'ama
Ua ao ē
E ho'okele i ke ala 'imi naauao
E ho'okele i mua me ka ha'aheo
Me ke aloha, ka hō'ihi
Ka lokomaika'i, Ka mahalo ē
I ola mau
No nā kau a kau
A pae aku
Look to the uplands and to the sea
and all around Honouliuli.
It is an admirable view.
In the enlightenment of this time
we will navigate the path of seeking knowledge.
We will move forward with pride,
love, respect,
generosity, and gratitude,
so that life continues
for all time.
And we arrive.
Our 5 Agreements provide common understanding for how all members of the IPA community (students, faculty and staff, parents and families, and friends) interact with each other. They help to create and sustain a caring culture and a positive learning environment. They also provide intentional practice of collaborative and social skills.
The 5 Agreements are presented in both English and Hawaiian because of the value we place at IPA for where we live.
Aloha: Mutual Respect
Kuleana: Right to Pass; Responsibility to Participate
Hoʻolohe: Attentive Listening
Malama: Take Care of Each Other and This Place
Pono: Do what is right; Only Put-Ups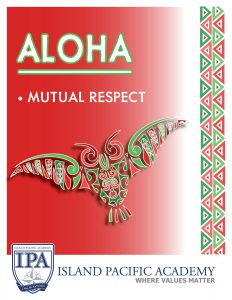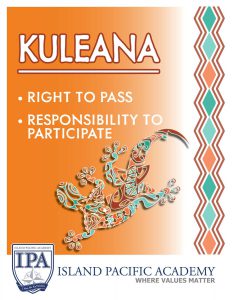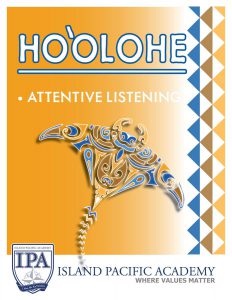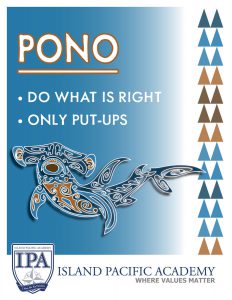 Tribes Learning Community
Tribe Learning Communities involve a process that creates a culture where learning and human development are maximized.
Tribes helps all students grow in the fullness of their humanity as smart, socially competent, purposeful, and ethical human beings. At IPA, this is possible because we develop and sustain a safe and caring culture which supports, challenges, and motivates our students (and adults) no matter their levels of abilities, different ways of learning, or backgrounds.
BENEFITS OF TRIBES
Helps develop resiliency
Helps children develop the skills, social competencies, and attitudes that enable them to deal with stress and adversity
Allows children to learn and practice problem solving skills
Provides caring and support, meaningful participation, and positive expectations for students and adults
Allows students to feel included and valued, making them positive contributors to the community and decreasing behavior issues
Impacts student learning in a positive way