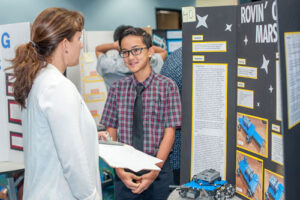 The Middle School Science Fair provides Grade 6 and 7 students the opportunity to learn about the scientific method while learning more about a topic that interests them.
Students choose their topic of interest and direct their own learning within that topic. Students may complete a project individually or in a group with a maximum of three students for research projects. The Science teacher supports students with every step of this important project.
The project consists of forming a research question, creating a hypothesis, generating and doing an experiment, collecting data, and drawing conclusions based on what the student has gathered. Student projects are presented each year at IPA's Middle School Science Fair exhibition.
Innovation Fair is brand new to IPA for the 2018-2019 school year. Students in 8th grade will have the opportunity to work together in groups to design an innovative solution to a community-based problem. Each year, the projects will be grounded in a particular theme. The theme for the 2018-2019 school year is "Sustainability".
The focus is to foster the integration of Design Technology, Science, Engineering, Arts, and Mathematics into community-based projects. Students will use Design Thinking to identify a problem, design a solution, create prototypes, and create a public product to present their solution to the larger community at IPA's annual Innovation Fair.