Dr. Daniel White founded ISLAND PACIFIC ACADEMY upon a set of principles that continue to imbue the culture of IPA today. He envisioned that students and faculty would understand and practice the power of human kindness and exhibit a generosity of spirit which, taken together, result in respect for others. These values are the foundation by which IPA students live and learn about the world around them, and help define the guiding star, the hōkūpaʻa, by which we navigate.
When IPA first opened, Dr. White commissioned Pumehana Silva and Melelani Spencer to create an oli, or Hawaiian chant, for the school that reflected our philosophy and recognized and respected a sense of place and culture.
The ISLAND PACIFIC ACADEMY oli, Nā Kau a Kau, tells a story of the journey of IPA students in this ahupuaʻa of Honouliuli, as they navigate through their academic careers, always mindful of the values that guide us: humble pride, love, respect, generosity, and gratitude.
At the Elementary assemblies, during the Secondary town halls, and before all special events, IPA students, faculty, and staff together chant the oli as a reminder of the values comprising a moral code that informs all relationships in the IPA community.
Everyday on campus, you see examples of these values being lived with intention by our students everyday – in big, grand ways and in small, daily gestures – as they travel along their academic journey. And, at the end, we arrive. A pae aku.
Kumu Joy challenged her Hawaiian Studies students to reflect on the words of the school oli and create an original piece of art that related to a line from the Hawaiian chant and share why the words are meaningful to them. The project was part of an introduction to their study of ahupuaʻa and recognition that IPA, along with many students, reside within the Honouluiuli ahupuaʻa referred to in the oli. Enjoy their work!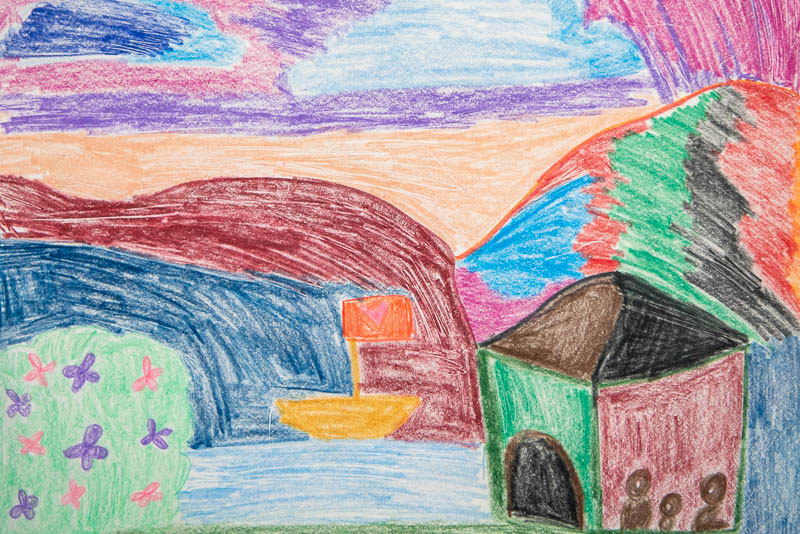 Ariel Keouli '24
"Me ke aloha, ka hōʻihi, ka lokomaikaʻi, ka mahalo ē"
"Aloha, respect, generosity, and gratitude"
"These two lines are meaningful to me. They translate as 'aloha, respect, generosity, and gratitude.' I chose this line because it is something that we keep as our values. We were taught long ago these values and we use them in our everyday life. These lines in the oli are core values of Island Pacific Academy. Through personal experience in only the first two weeks of school, the students have shown aloha, respect, generosity, and gratitude. Island Pacific Academy establishes these values in the keiki and it has really shown. They are very welcoming, kind, respectful, and I am truly grateful for their generosity."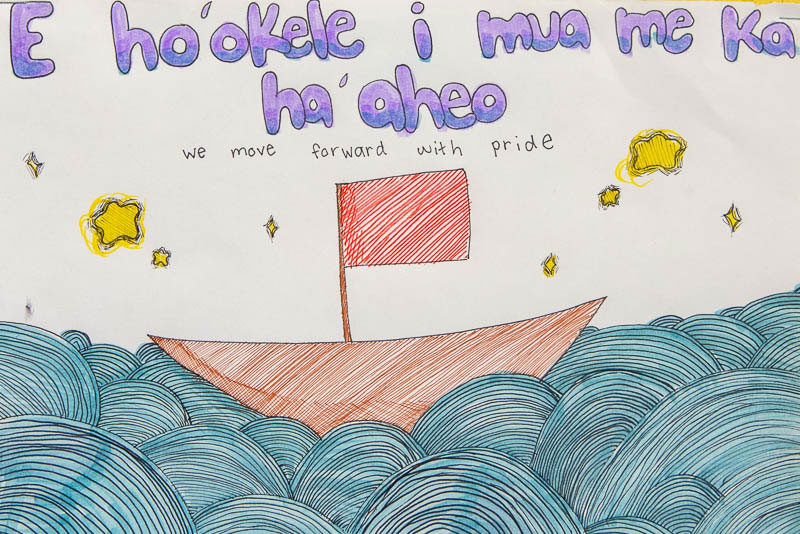 Kiera Loftis '25
"E hoʻokele i mua me ka haʻaheo"
"We will move forward with pride"
"I chose this line because I believe it is important to keep your head up and move forward with pride. Even if you fail, it is important that you don't take it too hard and instead use it as a learning opportunity. The art that I make or the grades I consciously try to maintain are all things I am proud about. I think it's important to be proud of yourself and your work. It is so important to me to be confident…I feel pride showing people my accomplishments. Even if something isn't perfect, I try my best to look past that and learn from my mistakes. I try to grow while still being proud of myself."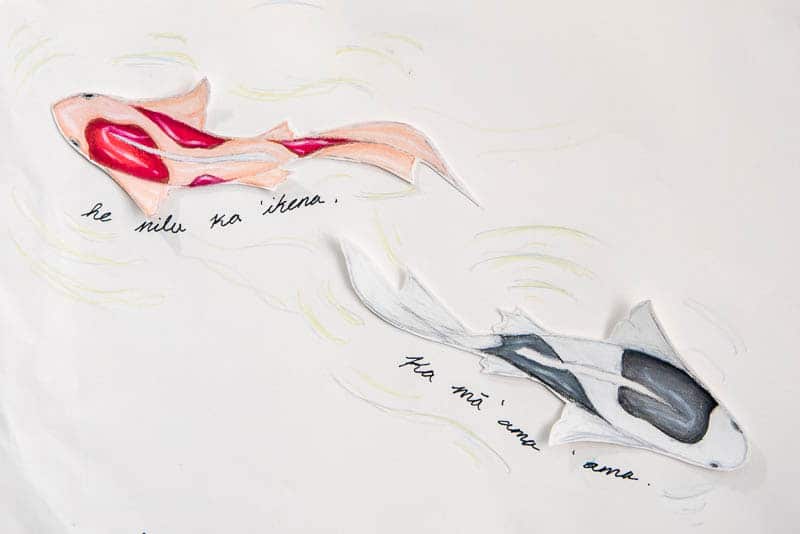 Ali Evans '25
"He nilu ka ʻikena, ka mā ʻama ʻama"
"It is an admirable view"
"I chose this line because it spoke to me most. I like nature and this line brought so many different views of Oʻahu to life for me. For this project, I decided to draw koi fish. When I was thinking of what to draw, fish was one of the first things to come to mind. Oʻahu specifically, has a variety of beautiful and vibrant fish. But one that I've always personally like was the koi fish. I find koi fish very elegant and very free, which are two things I associate with living on these islands."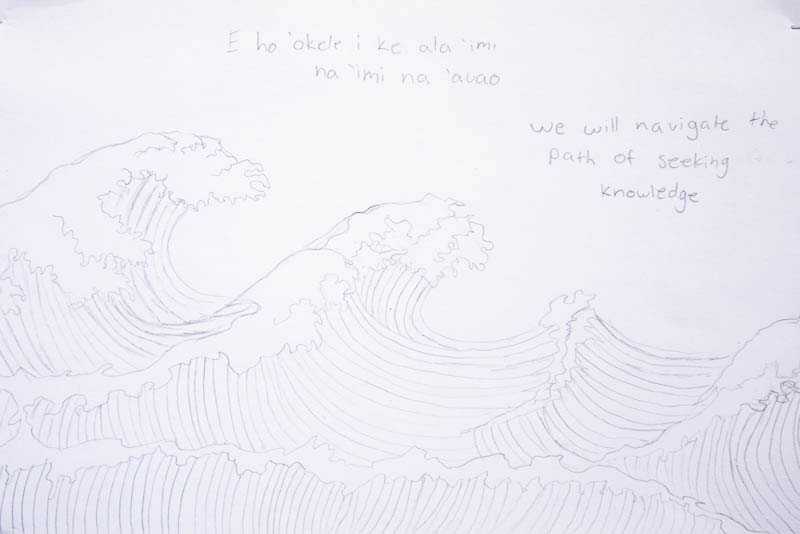 Liliana Okimoto '25
"E hoʻokele i ke ala ʻimi naʻauao"
"We will navigate the path of seeking knowledge"
"This line is meaningful to me because it talks about navigating the way to knowledge. Learning isn't always easy, and you can't get everything right on the first try. Learning is a journey and sometimes it's a hard one, almost like navigating through a stormy sea. But at the end of the day, we all learn together. Even if everything seems hard, or impossible, there is a way to get through."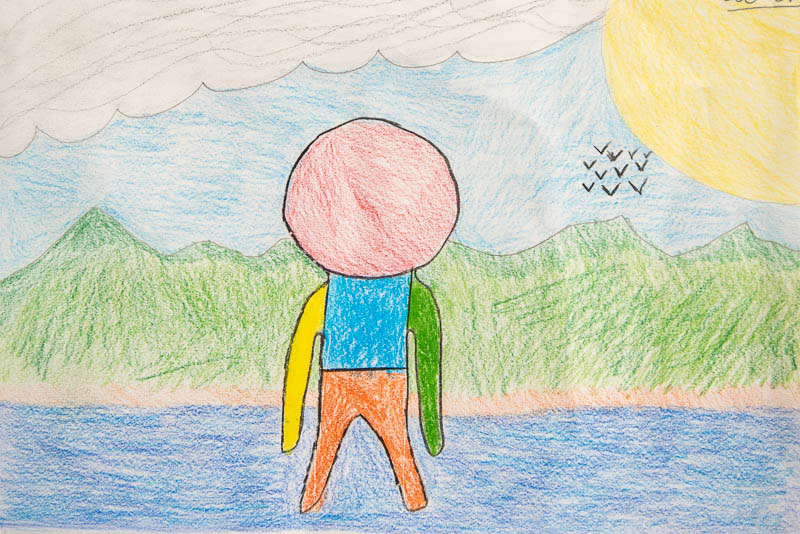 Luc Giusto '25
"E hoʻokele i mua me ka haʻaheo, me ke aloha, ka hōʻihi, ka lokomaikaʻi, ka mahalo ē, i ola mau, no nā kau a kau"
"We will move forward with pride, love, respect, generosity, and gratitude, so that life continues for all time"
"I chose this line because I feel it's important for IPA students to recognize what values this school aims for us to graduate with. Each colorblock on my figure represents one of the five values of the oli. These five values are what we need to become productive members of society. This line stuck out to me because my family preaches these same core values to me, so I have a strong connection with these words. My mother has always said that the best way to express gratitude is to give back to your community, and the people who made you who you are today."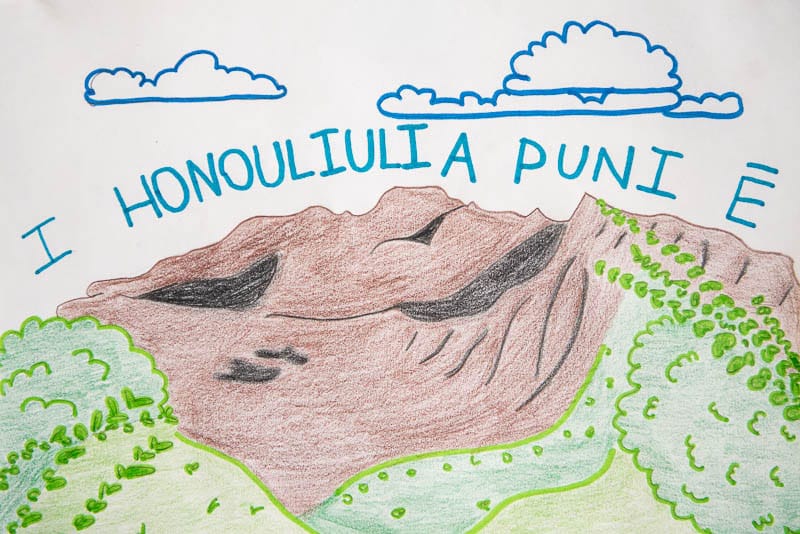 Kiana de la Cruz-Swauger '25
"I Honouliuli a puni ē"
"And all around Honouliuli"
"I chose this line because it's a landmark and shows where we are. The mountains represent how everything just builds off of each other and in some way are connected. If you're far or close from the mountain, you'll still be able to see it, meaning no matter the distance there's still something we can all focus on. This line is meaningful to me because I get to see a mountain and other green scenery which reminds me that others also can. That we're all seeing this view but responding in different emotions and ideas. It shows how complex each neighborhood and family really is and that there are many different variations of one subject."