Cherishing Our Elders in May Day Celebration
"May Day is Lei Day in Hawaii Nei." This popular phrase in the islands prevents anyone from forgetting this special day. It was Don Blanding, a writer and poet, who first suggested that a holiday should be dedicated to the beautiful Hawaiian tradition of making and wearing lei. But it was Grace Tower Warren, also a writer, who came up with the idea that the holiday should coincide with May Day. And so since the first Lei Day on May 1, 1928, Hawaii has continued the annual celebration to this very day.
ISLAND PACIFIC ACADEMY held it's 9th Annual May Day Celebration on Friday, April 29th on the school campus. It was a perfect day. Blue skies, sunshine, cool tradewinds, students, faculty, staff, and families dressed in aloha attire and the fragrance of fresh floral lei filling the air. These were all delightful to our eyes, however, it is the "behind-the-scene" details and elements that tugged on our heartstrings and made this celebration a most memorable event.
This year's theme, "Nā Hulu Kūpuna, Cherishing Our Elders" was chosen by IPA's own, Momi Kuahiwinui, Kindergarten Teacher and Kumu Hula. "The passing of my mother-in-law, Malia Kuahiwinui, last September, was a reminder of our need to embrace, cherish, and preserve the values and teachings of our kūpuna. Her undying aloha for all people and immense manaʻo of Hawaiʻi was of immeasurable value to all of those who had the honor of knowing her." Kumu Momi along with her daughter, Kumu Makana Kuahiwinui and IPA's Elementary Music Teacher, Ruth Ann Babas, chose songs that were made popular by composers of our Kūpuna generation.
The preparation and collaborative effort that makes IPA's May Day Celebration possible each year, is a labor of love. The entire student body, faculty and musicians, rehearse for approximately six (6) weeks with great anticipation of their performance. A labor of love. Two grade levels are paired for each song and one of the most special pairings happens with Kindergarten students and their Senior buddies, who they have built relationship with through the course of the school year. Performing at May Day together is one of the last activities that these students will share before their buddies graduate later this month. In keeping with this year's theme, "Nā Hulu Kūpuna, Cherishing Our Elders", Kūpuna or grandparents of these students, joined in to hula alongside their mo'opuna (grandchildren), on the last verse of their chosen song. Parents and visitors to our campus on Friday, were delighted by the music and hula performed by all of the participants.
Many of our schools in Hawaii have struggled between preserving Hawaiian culture and integrating foreign traditions on the special day. However, ISLAND PACIFIC ACADEMY, holds a Multi-Cultural Festival in the Fall, which highlights the many different ethnic cultures that make our school unique. Having that special celebration, then allows the school to continue the perpetuation of the Hawaiian Culture by producing the Annual May Day Celebration, complete with all of it's traditions, including the presentation of a royal court.
Each year, the Mo'i Wahine or the Lei Queen and her court reside over the festivities. Interested students sign up to be considered for the royal court and a group of faculty members, choose them, based on the student being "pono" or being good, upright, of high moral standards, and of excellent character. Students chosen must also be known for, their consistency in sharing the aloha spirit with all who cross their paths and must meet a pre-determined academic requirement. A princess representing each of the islands is chosen and she, her prince and her kahili bearer, wear leis fashioned with the island's flower and traditional garments in the island's color. The Mo'i Kane (Lei Day King), the Mo'i Wahine (Lei Day Queen), their attendants and kahili bearers are also held to the same requirements to be chosen.
In Hawaii, it is a remarkable honor to be crowned "Lei Day Queen" and our Mo'i Wahine, Kasey Nunies ('16), certainly lived up to that honor. As she entered the festivities, there was an audible gasp, as the audience gazed upon her evident beauty and the abundance of pikake lei that she was adorned with, forty-seven (47) strands in all. This was another element of "Nā Hulu Kūpuna, Cherishing Our Elders" as it was done to honor Kasey's grandmother, who also had the honor of being crowned Lei Day Queen in 1969, forty-seven (47) years ago. Family members of our Mo'i Wahine gathered to sew all of those fresh pikake lei early on Friday morning, at IPA. A labor of love. Kasey and her Royal Court enticed the audience with their hula to Pua Ahihi, which also happened to be the mele (song) that her Kūpuna danced to when she was Mo'i Wahine.
When asked about how they felt with regard to how the celebration went on Friday, many involved shared the same sentiment that our Kūpuna, whether still here with us or have passed on, were proud of what we set out to accomplish this year. E ho'omau i ke aloha o nā kūpuna, to carry on the love and traditions of our ancestors. Kumu Momi added, "the greatest measure was that of the appreciation shared by kūpuna as they left ISLAND PACIFIC ACADEMY on Friday. Many gave their mahalo for instilling our Hawaiian values of ho'ihi (to respect), malama (to care for) and aloha (to love) through everything we do with our keiki".
To the many volunteers who gave so generously of their time, talents and resources, we extend a huge mahalo. Your commitment to serving and supporting ISLAND PACIFIC ACADEMY, woven together with the core values of our school, gives us the confidence to continue moving forward.
I Mua Me Ka Ha'aheo!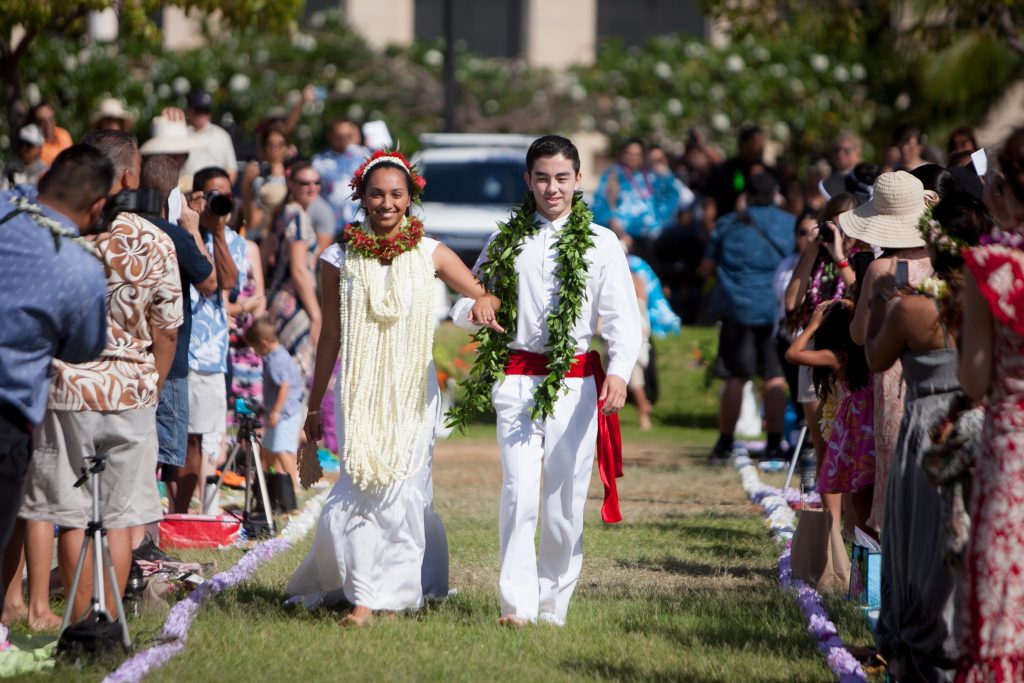 Mo'i:  Andy Labaczewski  ('16) and Kasey Nunies ('16) were the King and Queen of the May Day Court.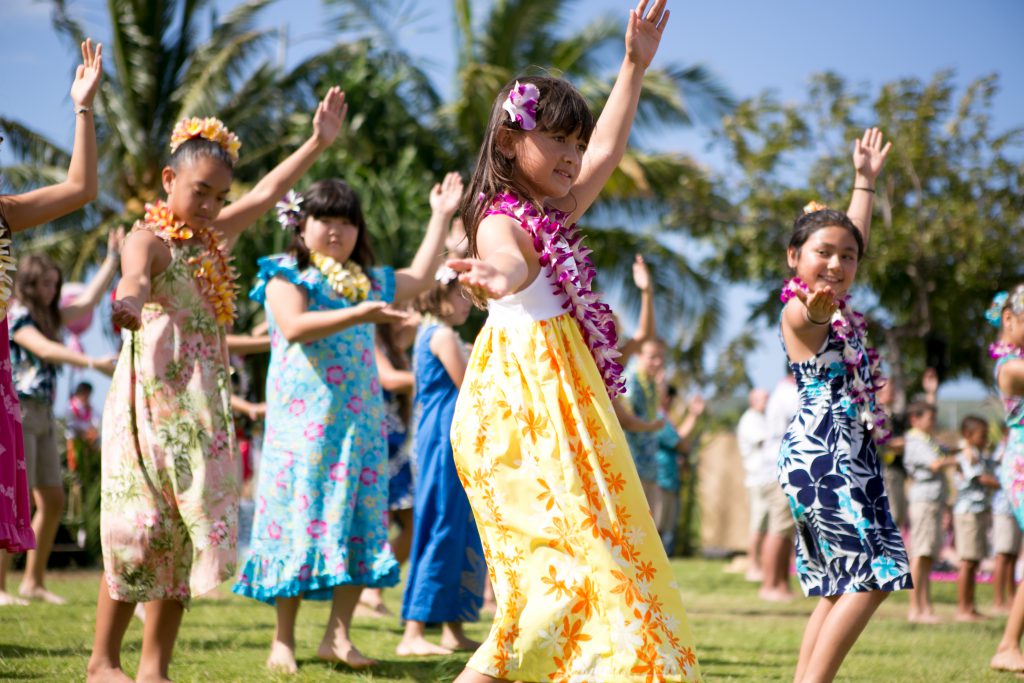 Elementary Students happily perform the hula for audience.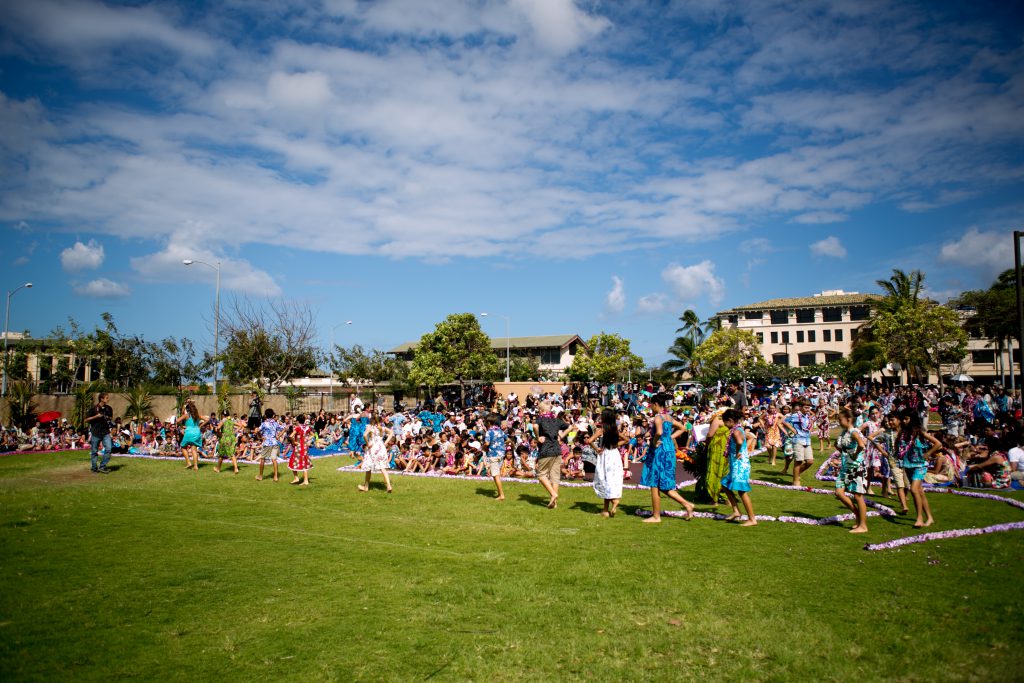 The IPA field was filled  with aloha during the 2 hour program.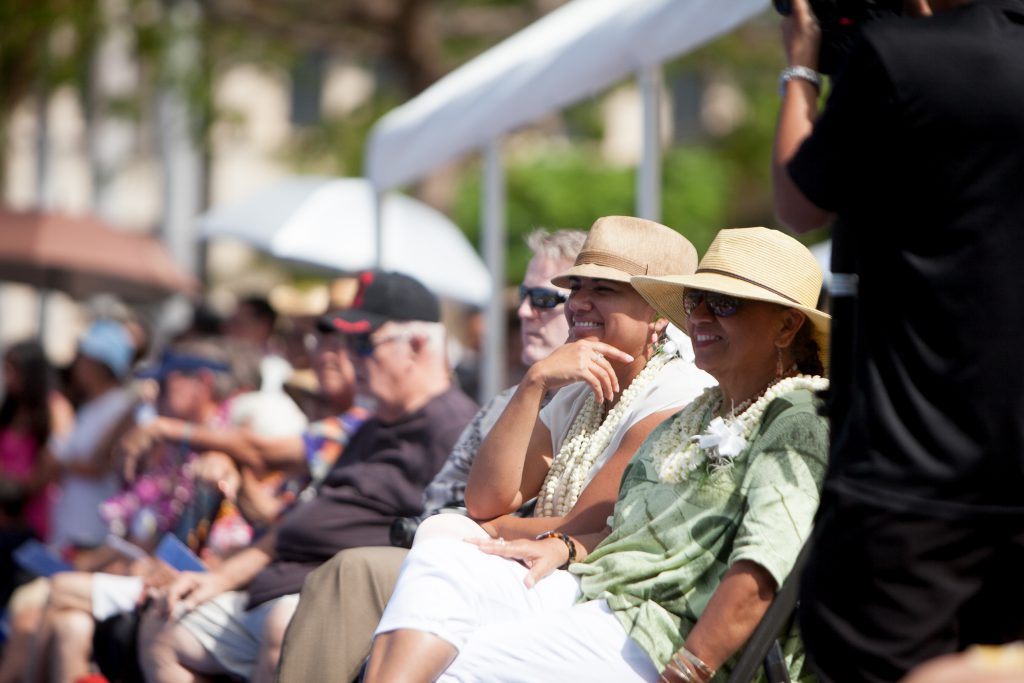 May Day Moʻi Wahine, Kasey Nunies had her mother and grandmother in the audience proudly looking on as she danced with the Royal Court.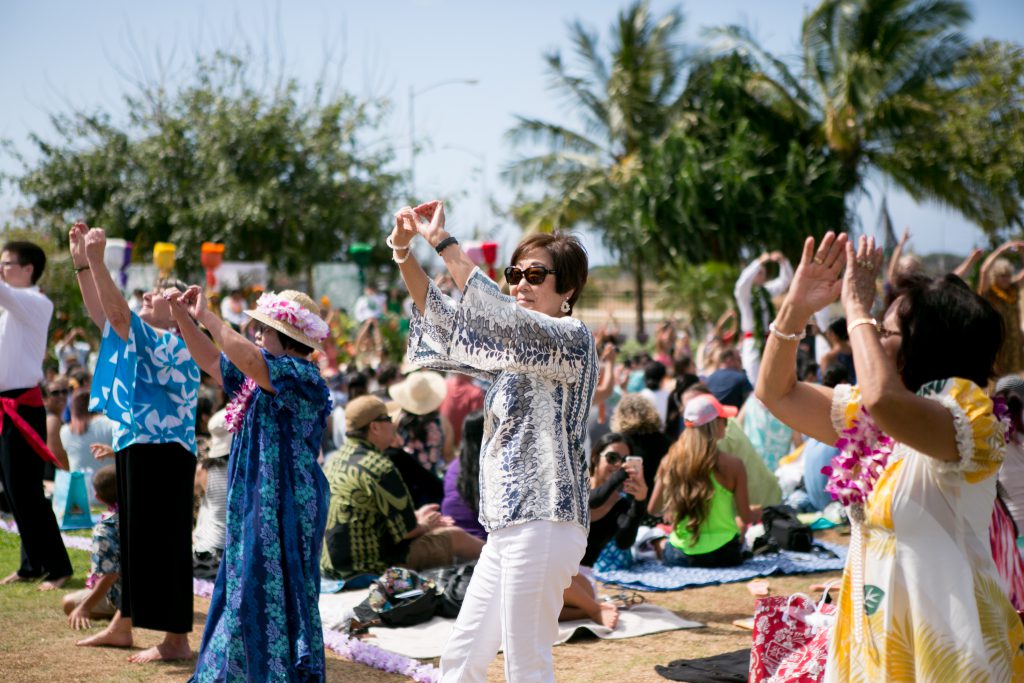 Our Kūpuna dancers graced the audience with a lovely performance with IPA students.
The Royal Court consisted of 35 students, including representatives for all 8 Hawaiian Islands.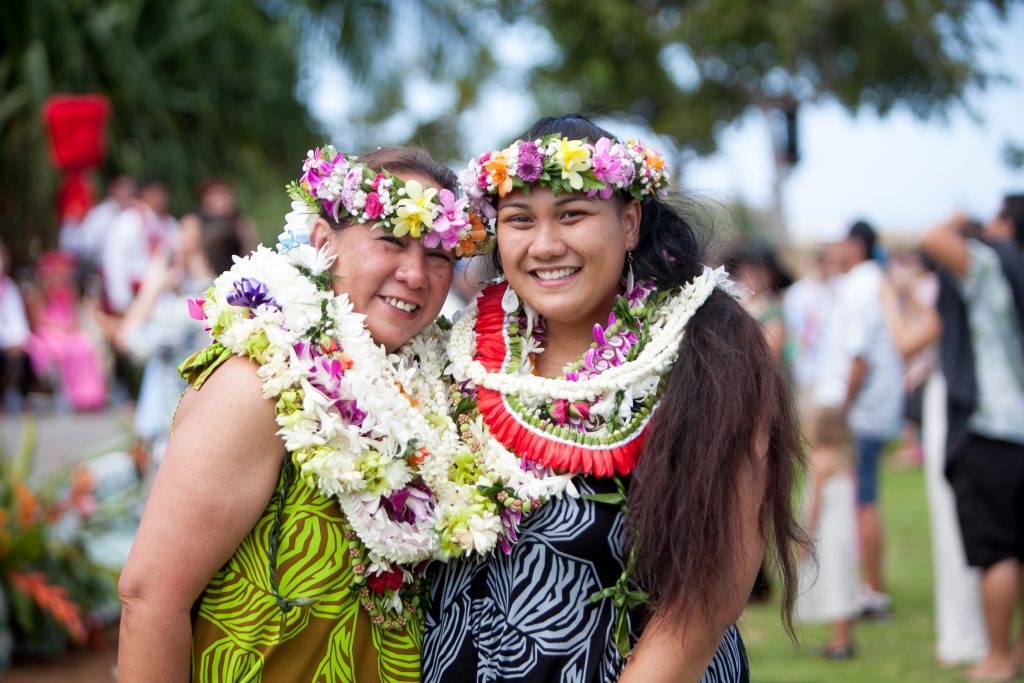 Kumu Momi Kuahiwinui and her daughter Makana are all smiles after the celebration.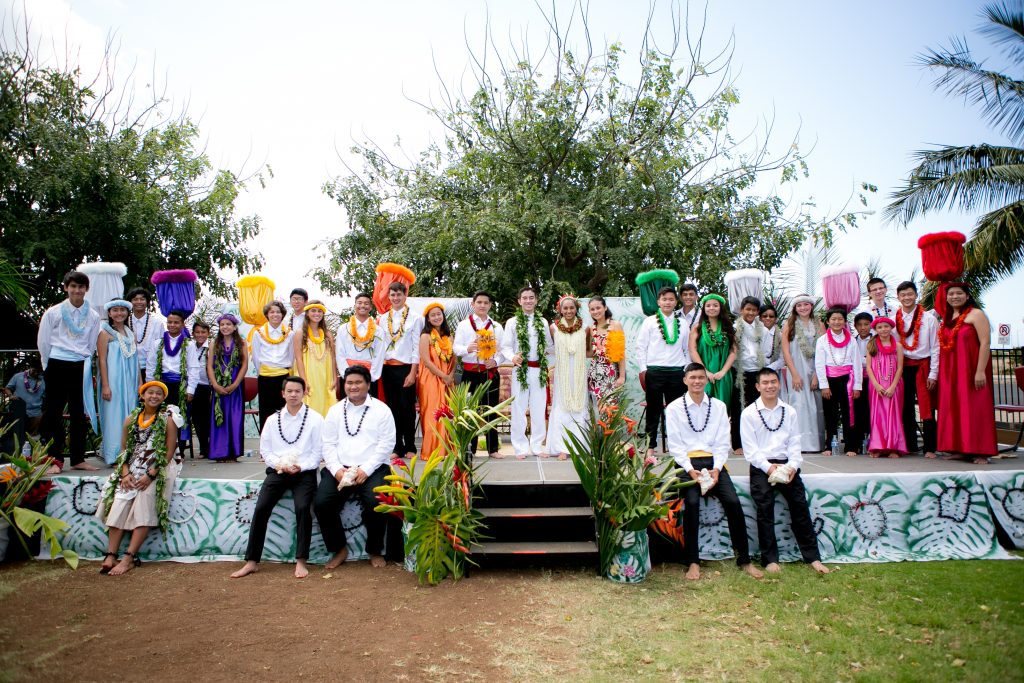 The 2016 May Day Royal Court proudly stands at the end of the celebration.